Une bonne sauce piquante, sans sel, avec un monsieur plus ou moins déguisé en cannibale pour la vanter, ça vous dit ?
Mouaif.
Et si je vous dit que le monsieur jouait un gros tambourin pour le Paul Butterfield band...
Mouaif.
Et si je vous dit que le monsieur a une discographie plus belle que la plupart des guitaristes connus...
?
Qu'il ressemblait à ça,il y a 40 ans :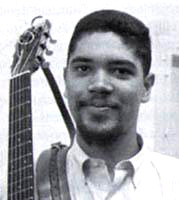 ?
Qu'il a joué dans 80% des grands albums de folks ricains des 60's :
Sur le
Freewheelin
et le
Bringing all back
home de Dylan, sur la BO de
Pat Garrett & Billy the Kid
mais aussi chez Joan Baez, Tom Rush, Buffy Sainte Marie, Richard & Mimi Farina, Richie Havens, Ramblin' Jack Eliott, Eric Andersen, Carolyn Hester, Gordon Lightfoot, Hoyt Axton, David Ackles, Odetta, Fred Neil... ça donne plus envie de tâter sa sauce, tout de suite...
Ce "brother bru bru" n'est autre que
Bruce Langhorne
, entré dans la légende du rock pour avoir inspiré à Dylan un personnage légendaire désormais : Mr Tambourine Man. Rien que ça.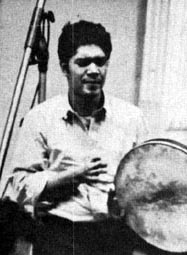 Langhorne et son grand tambourin

C'est étrange de se dire que, en 2009, monsieur tambourin est le patron d'une boîte de sauce piquante sans sel. Bon sang de bon dieu de merde, que foutent tous les néo-folkeux actuels pour le laisser se plaire là-dedans au lieu de le prendre comme guest en tournée et en studio... ? Ce gars qui, noir dans les 60's, en plein combat pour les droits civiques, a joué avec tous les folksingers les plus imminents du mouvement doit avoir des tas d'histoires à raconter, et un sacré talent qui n'a pas pu se perdre...
J'exige un vrai come-back ! (au lieu de faire un album de chansons de Noyel, le Bebert Zimmerman pourrait se souvenir de ses vieux amis)
Bruce Langhorne est l'auteur d'un seul disque. Il s'agit de la B.O. du film
The hired hand
, avec Peter Fonda et le génial Warren Oates.
Ce disque, des plus intéressants, annonce en certains points le Ry Cooder de "Paris, Texas", en plus sombre et la B.O. de
Deadwood
en bien des points.
Le disque vaut son pesant de sauce piquante, il pose une belle ambiance, jouant sur des notes isolées, les violons, le bottleneck et le picking .
Testé et approuvé.
Quant à la sauce, est-elle aussi bonne que le disque ? L'ai-je gouté ?
Je ne vous le dirai pas.
Car si je vous dis que je ne l'ai pas fait, vous allez penser que ce n'est pas très professionnel...
Et si je vous réponds que je l'ai commandé, je passerai pour un taré.
The hired hand - Bruce Langhorne